"was geht wirklich in ihm vor, was denkt und was fühlt er?"
die video-installation 'taylor loves…' simuliert den versuch dem betrachter aktive einblicke in den helden des films "planet of the apes" (1967) zu gewähren und das geheimnis seiner verborgenen gedanken symbolisch selbst zu lüften.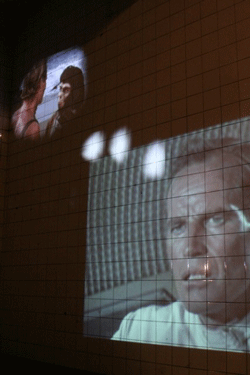 bestehend aus zwei videoprojektionen versucht die installation plastisch die fiktiven gedanken des protagonisten george taylor (charlton heston) zu illustrieren und ihn in einem neuen licht zu zeigen. während eine projektion taylor zeigt, sind seine gedanken zunächst verborgen. erst durch das ziehen einer jalousie sieht der betrachter die dadurch verborgene zweite projektion, die taylors gedanken in form einer gedankenblase zeigen soll.
kompositorisch an den comicbilder des pop-art-künstlers roy lichtenstein orientiert, wird mit hilfe der installation 'taylor loves…' im heroischen taylor ein zerbrechlicher und unglücklicher Held sichtbar, der zu ewigem leid im loop verbannt ist.
"What makes him tick? What does he think and what does he feel?"
Consisting of two projections the installation simulates the attempt to give active insights into the hero of the fiIm "Planet of the Apes" and the possibility to disclose his secret thoughts.
While the first projection shows the hero, at first his secret thoughts are hidden. Only if the spectator raises the blind, he is able to see the second projection which shows the hero's inside.
Compositionally influenced by comic strips and the paintings of Roy Lichtenstein the installation shows a fragile and unhappy hero who is banished to never ending sorrow in the loop.
ausstellungen / exibitions
>
25.11. – 04.12.2010: "und was siehst du?" / Bochum
ausstellung zum unsichtbaren und verschwinden (in) der kunst.  im rahmen des 79. kunsthistorischen studierendenkongresses. katholikentagsbahnhof bochum.
>
29.-31.05.2008: 18. Internationeles Videofestival Bochum